IOLITE – Eyelash Extension Course
KHDA Dubai Government Approved Training Academy
Duration :3 Days
Time : 11am to 7pm
Course Included Eyelash Extension Complete Kit
KHDA Dubai & international certificate from USA upon completion of course.
Price : 4,800 AED.
Long Lasting Eyelash Glue
Lash Glue Remover (Cream)
Individual Eyelash Extension 7 Pcs
Classic Tweezers 2 Pcs
Medical Tape 10 y x 0.5 in
Micro Brush 100 Pcs
Lint Free Applicators
Mascara Brushes
Glue Plate, Glue Ring
Mini Scissors
Lash Display Sponge
Primer, Cleanser
Lash Shampoo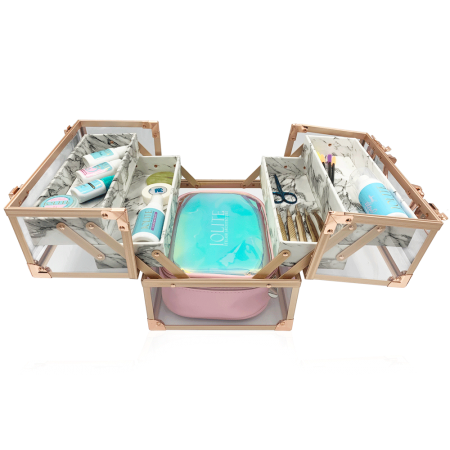 Show and explain the different 

type

 

of Eyelashes.

Benefits of 

Eyelash Extension.

Anatomy of the Eyes.

What kind of glue we can use for beginner and advance

.

 

How to take good care of

 lashes after application.

 

Different kind of effects for different shapes of eye's.

 

Business Responsibilities 

 

Safety 

Precaution

 (how to sanitize

 working area, use only disposable parts,

 Special instruction for Technician how to avoid contaminate area.

 Medical history of Client.

 

After care.

 

Explain about glue remover.

 

If client have sensitive eyes how to apply.

 

Explain about all products what we need for work.
Safety and Proper preparation for working area.

Question Form to be sign

How to work with 

tweezer

 to do Mega volume.

Explain what kind of Eyelashes we can use for volume effect.

Practice first on cotton after on the model.

Aftercare

Final examination
Certificate issued upon successful completion of exams.
P

roportion

How to consult with

 client if 1st time doing eyelash extension. 

How to answer

 client

 in proper 

way

.

How to prepare place for 

work

How to prepare Lashes for 

application.

What kind of patches we can 

use.

Work with model classic Eyelash extension application 

( one

 by one).
What is Eyelash Extension?
Eyelash extensions are used to enhance the length, curliness, fullness, and thickness of natural eyelashes. The extensions may be made from several materials including mink, synthetic, or horse hair. The main method of applying the extensions is by using an adhesive glue to individually stick the extensions to the eyelash line. False eyelashes and eyelash extensions are not the same.

Types and style of lashes
False eyelashes and semi-permanent eyelash extensions both enhance the length and volume of eyelashes, although they differ in various ways.
Classic lashes are a 1:1 ratio of one extension applied to one natural lash. Hybrid lashes are classic lashes and volume fan lashes mixed together. Volume lashes are 2-6 thin eyelash extensions which make a fan shape to allow for a look of full fluffy lashes. Mega volume lashes are 10 or more super thin eyelash extensions. Pre-made fans are ready-made volume eyelash extensions. They are arranged on the sticker strip for easy pick-up and quick application.
Process
In the United Arab Emirates, eyelash extension services can range from AED350 to AED1500, depending on:
The number and type of lashes being used
The skill level of the cosmetician or 
The venue where the extensions are applied
Because an average person might have anywhere from one hundred to two hundred lashes per eye, it can take from one to three hours to attach a full, new set. The amount of lashes one can put on varies upon the existing natural eyelashes. Because we lose natural eyelashes every day the eyelash extensions usually last between 3–4 weeks and during that time period, natural lashes start falling out or thinning. Maintaining a full set of eyelashes requires a refill every 2–3 weeks or a partial set every four weeks. If done correctly, there should be no damage to the natural lashes. It is important to find a trained professional to preserve lash growth and reduce the chance of eye complications.
Training and certification
Professionals trained in Lash Artistry go by various titles including "Lash Technicians," "Lash Artists," and "Lash Stylists." There are different companies that provide training and certification for a potential Eyelash Extensions Technicians.
In the UAE, the Guild of Professional Beauty Therapists accredit courses for the safe application of semi-permanent individual eyelash extensions. The value of the course content can be judged by the number of CPD (Continued Professional Development) points that the course is awarded.
Applying eyelash extensions in the state of Dubai requires a Cosmetology or Esthetician License.