IOLITE EYELASH PERMING & TINTING COURSE
KHDA Dubai Government Approved Training Academy
Duration :1 Day
Time : 11am to 8pm
Course Included Complete Perming & Complete Tinting Kit.
KHDA Dubai & international certificate from USA upon completion of course.
Price : 2500 AED.
• 5 Lash Tint of 15 ml each
Black, Blue Black, Light Brown, Medium Brown, Natural Brown
• 2 Developer 60ml (10 vol)
• EyePatch 5 Pairs
• Iolite Mirror
• Iolite Shampoo  50ml
• Iolite Primer
• Iolite Cleanser
• Mascara Brush
• Micro Brush
• Nano Perming Kit
• Beauty Wave Kit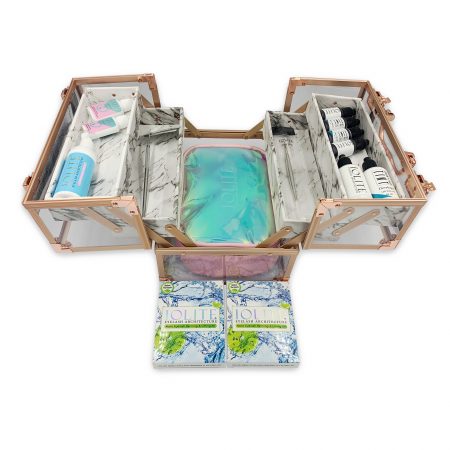 Course Overview & Outline
In this 1 Day Eyelash Perming & Tinting Course Masterclass we will take you through all you need to know on how to perform Eyelash Perming, Eyelash Lifting and Eyelash Tinting treatments, using the latest techniques.
While Eyelash Tinting has been around for quite sometime now; giving eyelashes that deeper fuller color, we can now add a bit more "WoW" factor by adding either an Eyelash Perm or Lift treatment.
Like our other full day Masterclasses, we will take you through theory, but most of all you will be back to back with clients performing these treatments.
We don't believe in 3-4 hour workshops, we want you to have as much supervised practice as possible! This will give you plenty of experience with all sorts of different clients, so that you build your confidence and hit the ground running when you start booking in your clients.
In our experience, by the end of the day you will be telling your trainer about your clients features, what treatment you think they need, and why!
Thats the difference when you study at Iolite Training Academy!
What is Eyelash Perming and Tinting ?
Or more commonly called an eyelash perm, and may also refer to permanent relaxer that straightens the hair is a cosmetics procedure performed only by licensed Cosmetologists to flip up eyelashes using hair perming technology.
Lashes are treated with a perm solution which is then followed by the neutralizer and sometimes depending on which system you use will have a nourishing oil as the last step to recondition and strengthen the lashes. Each being left on for about ten to fifteen minutes. Traditionally when lash perming was introduced a soft like sponge in the shape of a rod would be placed at the base of the lashes where the lashes would take on its new shape. Although, in recent years people have now started using a silicone pad that is placed on your eyelid. There is small, medium, or large silicone pads depending on the natural length of your lashes or how curly you would like them to be. This new form or perming lashes compared to the original sponge rod creates more of a natural shape and curve to the lashes. The original way of perming lashes which is still done oftentimes gives less of a natural curve or shape to the lash.
Another way to perm lashes is done by using a plastic instrument that looks a lot like a lash curler. This plastic instrument is then placed at the base of your lashes and then the instrument pinches them up wards the way a lash curler works. It rests on your eye for support and the rest of the procedure is performed the same way you would with rods or silicone pads.
Once your lashes have been applied (by a special glue that does not harm the lashes) to the perm rod or silicone pad the perming solution is applied to the upturned lash, and then it is left to set for ten to fifteen minutes, followed by the neutralizer which is also left on for ten to fifteen minutes. In certain systems there will be a nourishing oil as the last step, this nourishing oil also helps to break up the glue that was used to place the lashes on the silicone pad making it easier for the removal of the silicone pad. Once the silicone pad has been removed the eyelids and lashes are cleansed of any residue left over. The over all procedure takes about 30–45 minutes to perform.
The results may lasts for two to three months. The chemical reaction breaks and reforms the bonds of the hair. This reaction, softening the lash's inner structure between the protein chains of the hair. The hair swells, stretches and softens, then is molded around the shape of the perm rod or silicone pad to form a curl.
The procedure is performed in a salon or spa by a trained, licensed and certified individual. Every state requires individuals performing the procedure to have a valid Cosmetology license.
Considerations
Due to the chemicals involved, like any procedure, there is some risk. Side effects of the procedure have been known to include stinging around the eyes. The UAE Food and Drug Administration (FDA), while approving of hair treatment, has not yet approved the procedure for use around the eyes.